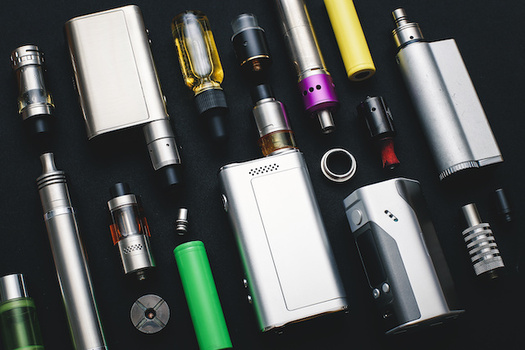 As of Friday, the CDC is looking into 450 cases of a severe respiratory illness that could be linked to vaping. (lezinav/Adobe Stock)
HELENA, Mont. – As the number of deaths possibly linked to e-cigarettes climbs, health officials are urging people not to use them.
State health officials across the country in the past week have connected vaping to a mysterious and deadly illness, and it's prompted the Centers for Disease Control and Prevention to recommend that folks stay away from these devices.
There are no confirmed cases in Montana, although the state is looking into potential incidences.
"We have something that has serious consequences and we don't know what's exactly going on," says Dr. Greg Holzman, state medical officer at the Montana Department of Public Health and Human Services (DPHHS).

"Protect yourself and stay away from these products at this time, until we have a better understanding. And hopefully, this would be a good time to stop using the products completely."
The CDC says it's still unclear which vaping agents are responsible for the severe respiratory illness that has cropped up.
The agency advises e-cigarette users to watch for coughing, shortness of breath and vomiting.
By the end of last week, the CDC was looking into 450 cases of the respiratory illness in 33 states.
Vaping among Montana's youth is a serious concern. The devices are the most commonly used tobacco product by high school students and, according to the Montana Youth Risk Behavior Survey, their use has increased from 23% in 2017 to 30% this year.
Nicole Aune, a program manager for the Montana Tobacco Use Prevention Program, says nicotine damages developing brains, and parents should be on the lookout for vaping devices, which are easy to conceal.
"They are called many different things," she states. "A lot of youth do not call them e-cigarettes. They might simply call them Juuls, vapes – whatever the product is. It varies so much. And then, a lot of them are disguised to look like everyday products."
Eric Tegethoff, Public News Service – MT